When lives matter, seconds count
Enjoy your life while we take care of your safety. Every home is different and requires specific solutions to prevent theft and other threats. We offer you a tailored service with the most appropriate equipment. We guarantee a professional installation by certified technicians and an immediate response in an emergency situation. Trust your security to Beagle Watch Armed Response, a market leader thanks to its technology, track record and proven quality.
Armed Response
Best-in-class response times. With our proactive approach to fighting crime in our footprint and unmatched response times, we remain the leaders in the private security industry.
All our systems are geared to keep our response times as low and as effective as possible:

Our state-of-the-art Call Centre is not only equipped with the most advanced technology and systems available and manned by highly qualified Controllers, but it is also the best of its kind in the private security industry.

We have the lowest client to vehicle ratio in the industry

Our vehicles are fitted with in-car monitoring, which means that the instant a client's alarm or panic button is activated, our vehicle receives the signal simultaneously with the Call Centre, eliminating any delays.

All our vehicles are tracked in real time around the clock by our Call Centre. This enables us to immediately send a back-up vehicle in case of an emergency, evolving crime situation, or alert from our License Plate Recognition system.

We have area-dedicated Response Officers and vehicles. This allows them to get to know the area and their clients well and enables them to offer the very best proactive support.

Visible and active patrols:
Beagle Watch's high visibility and proactive approach to fighting crime have been proven to reduce crime in those areas. Our Response Officers continually and actively patrol the neighborhoods we serve.

Our Management Team are available 24/7 to give our clients additional peace of mind and support and service they deserve.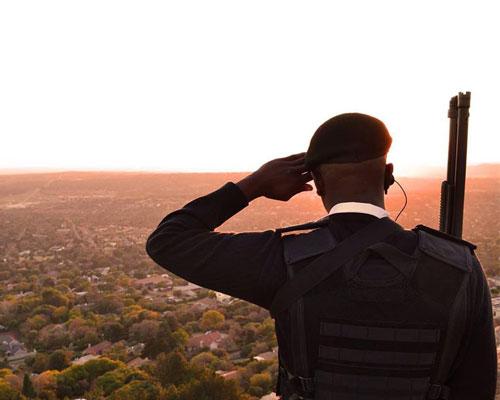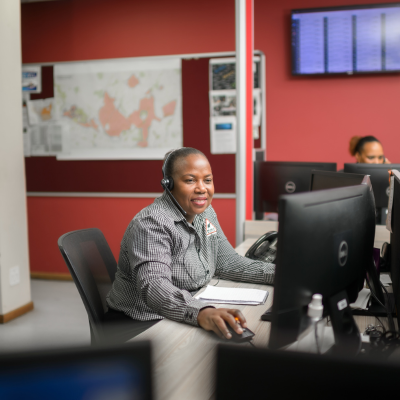 Monitoring and CCTV
We were one of the pioneers in public space CCTV Technology and remain the leading private security company in this sphere, with an ever-growing footprint of more than 850 cameras throughout our footprint.
Our Call Centre monitors more Public Space CCTV cameras than any other private security company in South Africa. CCTV camera monitoring is integral to our Call Centre operation, Incident Management and Beagle Watch's proactive approach to fighting crime in our footprint.
To back up our CCTV technology, we employ a team of highly trained Tactical Intelligence experts that specialise in proactive crime prevention with the information gleaned from the CCTV and Licence Plate Recognition technology. The successes are numerous.
We also offer offsite monitoring. This entails monitoring private off-site camera systems as well as dedicated street solutions.
Video Verification
A recent addition to our suite of products is Video Verification. With Beagle Watch's unique Video Verification system, you can add a highly cost-effective and efficient safety layer to your private security without compromising your privacy.
A CCTV security camera system in and around your house is an invaluable security layer that is as useful when you are at home as when you are not.

When an alarm is triggered from your electric fence, exterior beams, or standard motion detectors, the highly trained Beagle Watch Control Centre operators can access the video feed in that zone.

This allows our Controllers to relay additional and detailed information to our Response Officers to enable them to provide an even speedier and more efficient service.

Together with our new Video Verification service and Beagle Watch's best-in-class response times, you can enjoy the peace of mind you and your family deserve.

The peace of mind that a CCTV system with Video Verification offers is invaluable

Privacy guaranteed
To ensure your strict privacy, though, our Controllers only have video access to your CCTV system for a very specific and predetermined limited window period.

This feature distinguishes Beagle Watch from other products that have continuous access that could compromise your privacy and safety.

Highly compatible
The Beagle Watch Video Verification System is highly compatible with most cameras and CCTV systems if the DVR meets a few basic technical requirements and there is access to a stable internet connection. Our Technical team can advise on the compatibility of your current system.

Should you not currently have a CCTV system installed, our Technical team can also advise which systems would be most cost-effective and efficient for your specific needs.

Seamless and state-of-the-art
Setting up the Beagle Watch Video Verification system is seamless and provides you with the most up-to-date security technology.

Ask us about our competitive packages for your area
Beagle Watch has a specific package for your area. Contact us for more information today.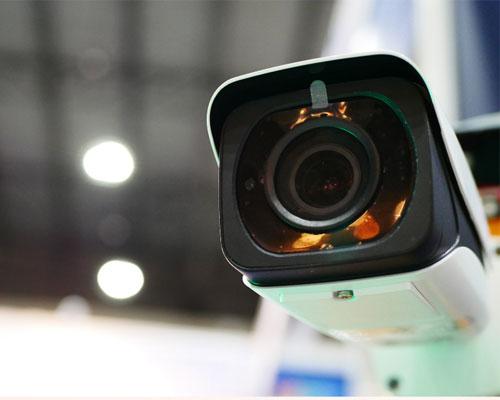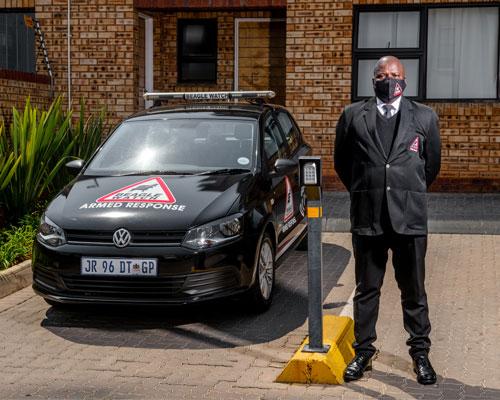 Beagle Watch Guarding Services
You have entrusted Beagle Watch with your home security and armed response, why not let us take care of your guarding needs?
Our range of Guarding Services tailored to suit your needs

Estate Guarding: Access and Egress
Our highly trained and disciplined security guards are an asset to any estate. Patrolling is monitored in real time by our Control Centre, ensuring both the safety of residents and the guards.

Armed Guarding
Our Specialised Armed guards are highly trained to combat crime at domestic, commercial and industrial client sites.

Casual/Ad hoc guarding
Should a client experience an incident, such as industrial action, or feels vulnerable for whatever reason, we can deploy temporary guards to help manage the situation.

Industrial/Commercial Guarding: Access and Egress
Guards deployed at industrial or commercial sites play an important role in reducing risks and theft. They are trained in threat detection and mitigation and risk-based vulnerability. The high visibility of our guards also acts as a valuable deterrent.

Street patrols
Highly effective monitoring and dealing with suspicious activity in residential and business nodes. Residents or business owners may decide to pool their resources and place a guard at an entrance or specific area for additional peace of mind.

Other benefits

Flexible contract periods
Contracts are tailored to suit clients' needs, with long-term and month-to-month contracts available.

Free risk assessment
Our Guarding Specialist will conduct a free risk assessment of your property and will offer valuable safety and security advice.

24-hour Armed Response Back-up
All Guarding clients in the Beagle Watch footprint enjoy 24-hour Armed Response back-up.


Contact the Beagle Watch Guarding Division today for more information and a FREE quote.
Beagle Watch Technical Services
At Beagle Watch, we understand that reliable, 24-hour technical support for home or business security systems is not always easy to find. Which is why Beagle Watch's Technical experts provide you with world-class technical services whether you are a Beagle Watch client or not.
Our Technical experts, available to work all over Johannesburg, can work on any brand of alarm system and we stock most parts for the majority of systems not older than five years. We also service CCTV and speciality products.

Highly qualified and experienced team of experts

All members of our technical team have more than 10 years of service and are accredited, highly trained and competent.

Extensive Technical Support

We employ more than 15 teams of technical support experts, that are backed by a strong head office support system and are a

24/7 Service and Access to Stock

Our Technical teams are always on standby and have 24/7 access to stock of all major parts.

Our Range of Technical Services

Alarm Systems:
• New alarm installations.
• Upgrades to existing alarm systems.
• Alarm system servicing and maintenance.
• Remote alarm arming/disarming from the Beagle Watch Smart App for existing alarms.

CCTV & Monitoring
• New CCTV installations.
• CCTV system servicing & maintenance.
• CCTV offsite monitoring.
• Video Verification.

Audits and Assessments
• Technical audits.
• Risk assessments.
• Technical advice.

Specialist Installations
• Beagle Watch Gate Guardian.
• Beagle Watch Panic Bracelet.
• Other specialist products.

More reasons to choose Beagle Watch Technical Services

No call-out fee for crime incident support
We know how important it is to secure your property after an armed robbery, burglary or similar incident. The Call-out fee is therefore FREE.

Fixed call-out fee, 24/7 - no surcharges
Technical emergencies do not keep to office hours. We therefore have a fixed call-out fee and do not charge an after-hours surcharge.

1 Year warranty on equipment and workmanship
We only install the best quality equipment and parts and are so confident in our workmanship, that we offer a 1-year warranty on all equipment and workmanship

To make a Technical Services booking, please phone our Call Centre on (011) 678 1972 or email technical@beaglewatch.co.za.